Preventive Dentistry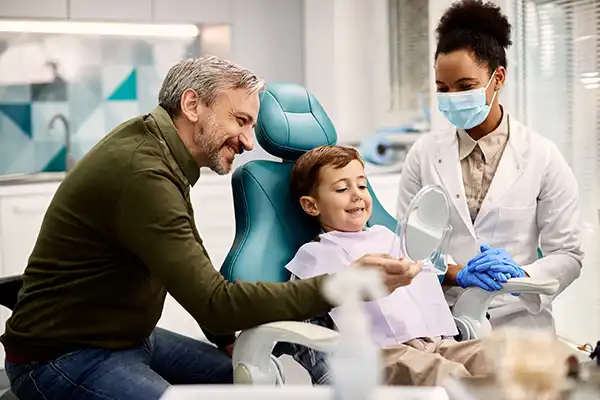 Preventative dental services are essential to your oral health. The goal of preventative dental care is to keep your teeth and gums healthy to prevent serious oral problems. While preventative dental care starts at home with regular brushing and flossing, home care is not enough to keep your mouth in top condition. For the best preventative dental care, you should be visiting the dentist at least twice a year, depending on your oral hygiene needs. At Alder Family Dental, we offer preventative dental services to help you keep your entire mouth clean, healthy, and free of disease to allow your beautiful smile to shine.


Our preventative dental services start with cleanings and exams. Even if you are a thorough brusher and floss every day, you can still experience tooth decay and gum disease. This is because it is very difficult to clean every single crevice of every single tooth. Our team uses the latest tools and equipment, which are not available to the general public, to remove plaque (a sticky film that coats your teeth and collects harmful bacteria) and tartar buildup (hardened plaque that cannot be removed with normal brushing). We complete your cleaning with polishing, which helps to remove stubborn surface stains, leaving you with a brilliant, clean sparkly smile.

During your preventative appointment we also perform a complete oral examination to screen for oral cancer, airway issues, soft tissue, tooth disease, function, and esthetics. This examination aims to detect problems early, so that they do not turn into serious, urgent issues later. Our Doctors check your mouth for signs of tooth decay and gum disease, which can be difficult to detect in the early stages. We measure gum pockets and perform an oral cancer screening. We evaluate how your home care is going and recommend areas or tools which could help improve the way you care for your teeth. We also use digital radiographs (x-rays), which help us to not only detect issues, but monitor progress or degeneration of dental disease, and we advise an appropriate treatment plan if intervention is needed.


Sealants are a common procedure for the molars of children but can be used for adults as well. Your molars often have deep grooves on their chewing surfaces, and the bristles of your toothbrush cannot easily reach down into these spaces. As a result, bacteria and food particles can linger, creating the perfect environment for bacterial growth and decay. Sealants are typically placed over and into these grooves not long after the molars erupt to prevent cavities from forming. To place a sealant, the surface of the tooth is first cleaned. The tooth is kept dry and isolated for the best life expectancy on the sealant. The tooth is then prepared similar to a filling with our bonding protocol, and the sealant material is painted into the grooves and light cured to make the material hard. This helps to keep bacteria out and makes cleaning your teeth easier. While durable, they do not last forever, but they are easily replaced and are a very cost-effective method of preventing more serious dental problems from beginning.

Fluoride is also a commonly used tool to help strengthen teeth, both in children and in adults. Fluoride is a mineral that helps to keep your enamel strong and prevent the buildup of plaque and bacteria. It is placed on primary (baby) teeth to help keep them strong, as well as prevent decay, and helps to ensure that permanent teeth grow in strong and bacteria resistant. After the teeth are cleaned and dried, fluoride varnish is applied to the surfaces of the teeth with a small paintbrush. The coating hardens and hangs around for up to 24 hours, absorbing into the enamel to strengthen any areas that may have begun to break down. Fluoride is started at the first dental visit, which is ideally around the first birthday, and continued at your regular follow ups for a lifetime.


Gum disease is a serious oral health issue that can eventually lead to tooth loss if not properly addressed. Unfortunately, the early stages of gum disease, known as gingivitis, can be difficult to detect. If you miss the signs and gum disease progresses, bacteria are able to travel below your inflamed gum tissue and begin to attack your teeth and jawbone. This is known as periodontitis and can lead to irreversible changes such as gum recession, bone loss, infections and loose teeth. In addition, this causes chronic inflammation which can be a tax on your immune system and the bacteria involved in the infection have been shown to complicate other co-morbidities such as heart disease, diabetes, and auto-immune disease. The more advanced stages of periodontitis require professional intervention, and often costly, time-consuming treatment. For these reasons, we check your mouth for signs and symptoms to help prevent or stop the progress of gum disease at the early stages and return your mouth to health and stability.

For an optimally healthy mouth, you need preventative dental services. Contact us at (509)-525-9474 to schedule your appointment today!