Dental Technology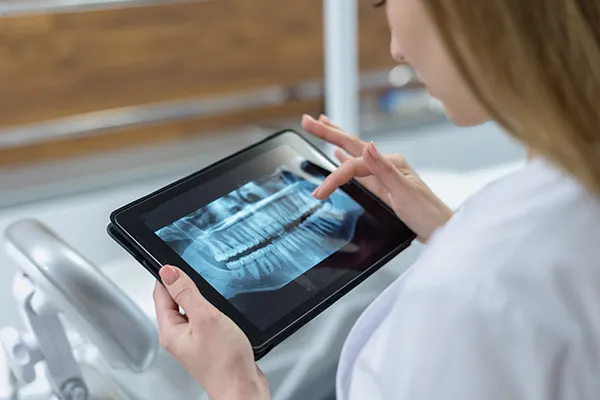 Dental tools help our team at Alder Family Dental make the restorations we need to help you have a healthy mouth. We have tools designed to spot hidden bacteria, remove hardened calculus, and tools that help us show you problem areas, increasing our ability to better communicate. Our tools have been developed to increase the benefit of your time with our dentists and treatment.


Cone Beam

Cone beam computed tomography is a medical imaging technique that provides dentists with a 3D image of the patient's teeth, nerve pathways, soft tissues and bones in a single scan. Our dentists prescribe this type of radiograph for many reasons. It can be useful in diagnosing jaw trouble, sinus pathology, visualizing dental abscesses, confirming root anatomy for endodontic treatment, and determining ideal location for dental implant placement. It can also be used to fabricate a surgical guide for implant guided surgery, thus ensuring greater accuracy of the implant placement.


Digital X-rays

Digital radiography captures radiographic images through a sensor and projects them onto a computer screen. Digital radiographs provide patients with greater comfort while significantly reducing radiation exposure compared to older paper films. Digital x-rays have also improved diagnostic accuracy by allowing dentists to magnify and manipulate the images in real time.


Intra-oral Camera

Our office in Walla Walla is equipped with several intraoral cameras that produce very accurate images of a patient's teeth and oral structures. The small wand comfortably captures images and allows us to display them on the screen to our patients. This allows our dentists to effectively communicate any dental issues and recommend the proper treatment in a way the patient can understand. Intra-oral cameras also help patients learn about their oral hygiene practices, including where to focus more when brushing or flossing their teeth. They also allow us to document the condition of teeth so we compare any changes that might occur over time.


iTero Intra-oral Scanner

iTero is a sophisticated handheld scanning device that captures digital impressions with precision accuracy. Many of our patients no longer have to endure the unpleasant and messy experience of traditional dental impressions or the gagging and claustrophobia that these tended to induce. Instead, the iTero scanner can comfortably create a virtual 3D image of the teeth, gums and oral structures in a matter of minutes all by manipulating a digital wand around the mouth. This painless and highly accurate model of your bite can be used to create an unrivaled fit for dental crowns, bridges, night guards, partial dentures, and Invisalign trays. It can also be used to document the condition of teeth so changes over time can be accurately monitored.


Advanced Laser Technology

Alder Family Dental has also invested in a soft tissue laser that can be used to provide minimally invasive gum surgery. From removing excess tissue, to uncovering implants, to correcting tongue ties, and treating periodontal disease, the soft tissue laser allows for a clean surgery site, more efficient, faster surgeries, and improved post-operative healing. Pulse Oximeter and Sedation Dentistry. To ensure your safety, our office utilizes a pulse oximeter to continually monitor your vital signs while you are receiving dental treatment under sedation. We follow the DOCS oral sedation protocol to safely sedate and treat our patients with anxiety and/or extensive dental needs.


Velscope

Our dentists and hygienists here at Alder Family Dental quickly and painlessly screen for oral cancer on all our patients at every visit. When something is found abnormal on the traditional visual exam, a Velscope is an additional screening tool we have available to help identify and detect tissue abnormalities with the help of natural tissue fluorescence.


Glidewell Fastmill IO

The Fastmill IO is a digital dentistry system that gives us the option to fabricate your permanent porcelain crowns at our office and offer same day crowns for our patients. Before incorporating this technology in 2019, we would capture an iTero intraoral scan (digital impression), design your restoration, and send all of the information to a dental lab where your crown would be milled out. While your restoration was being fabricated at the lab and shipped to our office, you would have a temporary dental crown in place. The temporary then needed to be removed at a second appointment for the permanent crown to be placed. This in-office milling unit lets us skip over the temporary restoration and the second visit. Instead, we capture diagnostic images, design and mill your dental crown while you read a book or catch up on email, and place the restoration in just one appointment.


Cavitron

A cavitron is a dental tool that uses high frequency sound waves to clean debris from your teeth. These high frequency sound waves vibrate away tartar and dirt and minimize the dreaded 'scraping' patients sometimes complain of. Water then flushes away the bacteria and plaque that build up on your teeth. Studies are also showing this minimizes the amount of 'bad bacteria' in your tissue, helping improve your overall oral bacterial flora.


Mini Star Appliance Fabricator

Our Mini Star oral appliance fabricator allows our team to make professional mouth guards, retainers and custom bleach trays in office for faster delivery and more accurate appliances.


Nomad Handheld Digital X-Ray

The Nomad portable x-ray unit allows us to capture reliable and efficient digital x-rays for all types of procedure in any office space at any angle. It also allows us to go out 'into the field', away from the office, and capture x-rays if necessary.