Dental Implants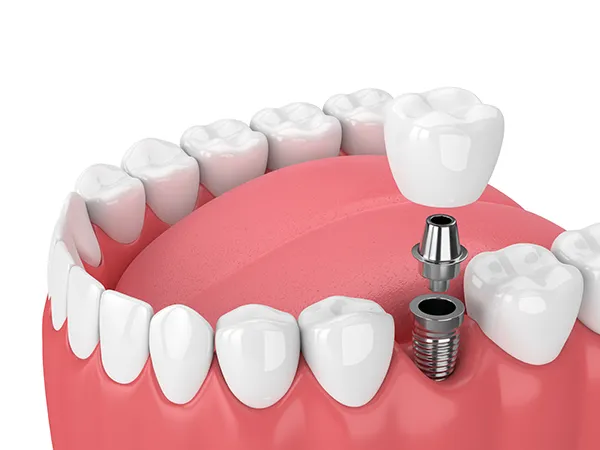 Are missing teeth making your life miserable? Has it become difficult to eat your favorite foods, or are you embarrassed in social situations due to gaps in your smile? If so, dental implants may be able to help you and improve your quality of life. These restorations provide a permanent foundation to support new crowns, and even your existing dentures can be anchored to them to eliminate the need for messy adhesives. Dental implants can dramatically improve your health and confidence by allowing you to regain your beautiful and functional smile.


Understanding Dental Implants

Dental implants are comprised of small titanium posts that are surgically placed into your jawbone where you are missing teeth. These implants screws serve as anchors that act like the root for an artificial tooth. After the implants are placed and the bone has had time to heal, the jawbone will actually fuse to the implants. Once the implants have integrated into the bone, replacement crowns are secured to your implants resulting in the closest thing dentistry has to replacing a missing tooth.

While it is clear that dental implants can be beneficial in improving the function of your mouth, they have also been shown to benefit the existing bone of the jaw. Bone needs pressure feedback or the body does not renew and replace the tissue over time, leading to bone loss. In this sense, dental implants can actually prevent further bone loss over time.


Types of Artificial Teeth Available

When it comes to dental implants, once integrated into the bone there are many types of restorations that can be placed on top. Crowns are the most common restoration and are chosen to replace a single tooth. In this restoration, one implant screw supports a single crown. In other cases, a bridge may be used to replace multiple teeth, and it may require several implant screws to provide adequate support for the prosthesis.

Full arch prosthetics can be used to replace all teeth in the lower or upper jaw, and both permanent and removable options are available. With this type of restoration, the total number of implants used will depend on how much bone is available, the length and type of restoration desired, and other factors your dentist will discuss with you during the treatment planning phase.

Full arch prosthetics could be used to replace all teeth in the lower or upper jaw. With this type of restoration, the total number of the implants used will depend on how much bone is available and other factors. An overdenture may be able to attach to a bar, while a fixed prosthetic will be permanent and can only be removed by your dentist, our dentists.


Dental Implant Candidates

If you are interested in dental implants, it is important to first see if you are a candidate. A comprehensive evaluation with one of our dentists is essential, and you will need a 3-D radiograph so the dentist can further examine your condition and determine size and location of implants needed. Our team will help evaluate your unique, individual situation and explain your options.


Advanced Technology

At Alder Family Dental, all of our Doctors have taken numerous hours of advanced training regarding both the placement and restoration of dental implants. With the use of our three-dimensional CBCT radiograph, our Doctors are able to map the jaw, nerves, sinuses, and bone to allow for placement of a large majority of implants at our clinic. For more information on the placement of dental implants, please refer to our surgery section.


Caring for Your Implants

After your smile has been restored with dental implants, it is important that you maintain a good daily oral hygiene routine as well as continue with your recommended professional recare schedule so that your mouth stays healthy. The same issues that can cause you to lose natural teeth can also lead to loss of dental implants over time. You'll need to floss and brush daily and may need additional hygiene tools to properly care for your implants. With proper care, your implants could possibly last a lifetime, making it especially important that you follow your dentist's recommendations in order to protect your investment.